&nbsp

Measuring change: The numbers behind the anecdotes
Post By: Sheli O'Connor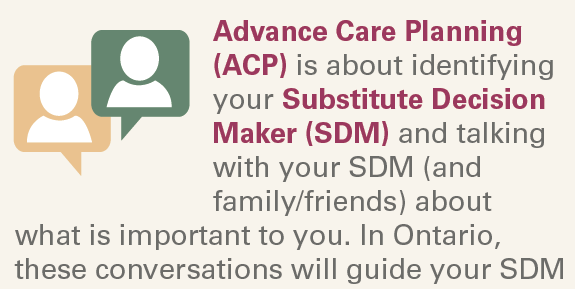 About 18 months into this "ground breaking" ACP project, I started to hear some very exciting things that signalled change in our community.  One individual told me about his recent trip to the emergency department with his mom and their experience at admissions.  He very proudly told me that he was asked for his mom's "next of kin" and in response said "don't you mean, who is her substitute decision maker?".   Around the same time a local lawyer remarked that he was noticing that clients coming to see him were better informed, more knowledgeable about substitute decision making and he was definitely seeing a difference.   In another exchange, one of our stakeholders called to tell me that she had been into her doctor's office and while waiting in the exam room, she not only noticed the ACP poster on the wall and the Speak Up resources on the table, but the nurse began the conversation by asking her if she had identified her Substitute Decision Maker!   It was so exciting to hear that change was truly afoot!
There has been such an uptake of our ACP education and outreach that the project has moved very quickly.  Time has flown as we have watched momentum around Advance Care Planning grow in Waterloo Wellington.  These anecdotal stories and overall positive response to the sharing of this information has fuelled the momentum for change in this community. Since 2015 we have provided numerous events and 200+ education sessions. With each session, each conversation about ACP, I have seen the eyes go wide, have felt the energy and the anxiety as people's hands go up to ask question after question about how this relates to their own family dynamic.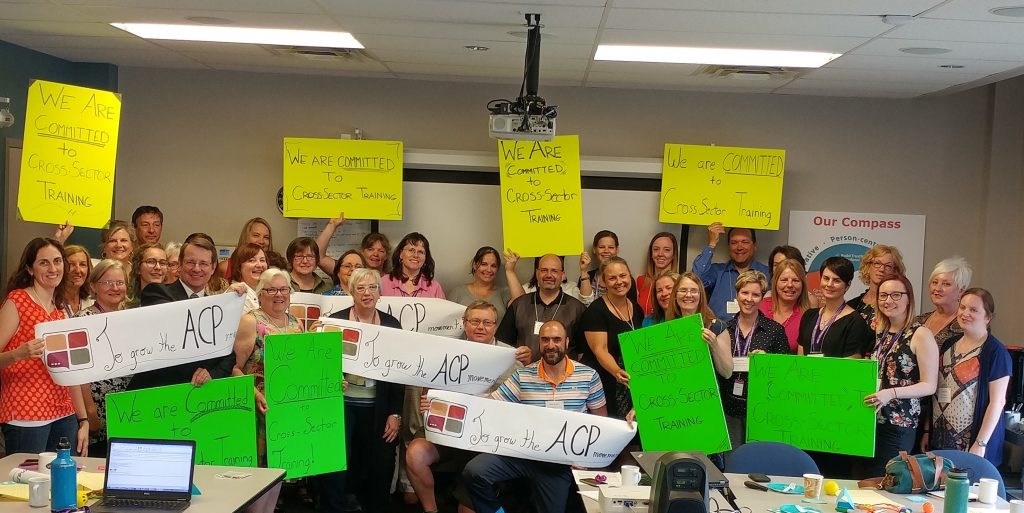 Faith leaders, volunteers, lawyers, estate planners, older adults, family caregivers, nurses, doctors, hospice workers, community organizations, human resource professionals and individuals at home, at work and even during leisure activities are responding to the project's outreach.  It has been a strong reminder to me that people make change and that this issue is personal AND relevant to every single individual regardless of where they live, work and pray in this region.  It is very exciting to see the people of Waterloo Wellington driving change, not for us, but for themselves, their loved ones and the people they support.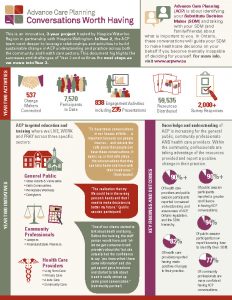 As a funded project, we are measuring that change to further demonstrate the project's impact in this community beyond the anecdotes.   To that end we have created an infographic that shares the evaluation results from the project's second year  and it can be found on our website at www.acpww.ca/resources .  These results DO support what our community is telling us and to borrow a line from another study:
"I think our findings are a powerful argument for the importance of advance care planning …. Unless patients and their families have the information that they need to make choices, it's hard to ensure that patients will get care that is consistent with their wishes, which is the most important thing." Dr Alexi Wright*

*Alexi A. Wright,MD,MPH; et al "Family Perspectives on Aggressive Cancer Care Near the end of Life"  JAMA 2016; 315(3) p284-292